How Much Does Gynecomastia Surgery Cost in India?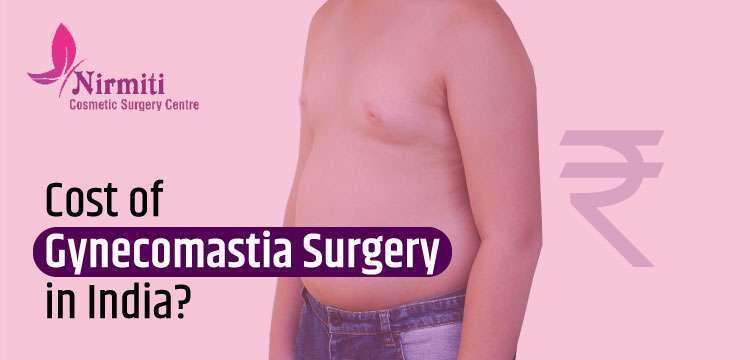 Overview
The total cost of gynecomastia therapy in India, excluding pre-procedure, medication, and post-surgery charges, may range from Rs. 65,000 to Rs. 95,000. In certain cases, depending on the degree of gynecomastia, it might even reach Rs. 100,000. Based on the patient's health and the disorder's location, the procedure's cost might also range from Rs. 45,000 to 60,000. However, there are still certain essential variables that might affect the final cost.
Gynecomastia surgery expenses in India start at Rs. 1,13,200 and go up from there, adding any additional fees. The patient's health, any problems, and the amount of fat that has to be removed may all affect the cost of the procedure.
Factors That May Affect the Cost of Gynecomastia Treatment
The many contributing elements that may have an impact on the overall cost of gynecomastia therapy include
Given that the cost of living and access to healthcare varies by region, the location of the clinic has a significant impact on the price.
The doctor's price comprises the cash they take for the procedure and the amount they charge for consultation. The price of consultation and operation will increase with a surgeon's level of expertise.
Hospital-related costs include the hospital's choice, admission, bed, and discharge costs. Hospitals are more likely to charge more for medical treatment if their services are more sophisticated.
The kind of anesthetic used during surgery will also affect how much it costs. Any anesthesia that fits you will cost differently since local and general anesthesia charge varying charges.
The kind and amount of the procedure significantly impact the price. The cost will be lower if the breast reduction surgery is minor. The price will rise if the breasts are huge and the procedure is complicated.
The procedure's risks and consequences also impact the cost. You will pay more for a complicated operation than for a straightforward one.
In addition to these charges, there are additional little but significant costs associated with gynecomastia therapy, such as travel costs, diagnostic testing, pre-and post-operative drugs, etc. Surgical treatment of gynecomastia has a success rate of over 90%, with the vast majority of men reporting complete or near-complete satisfaction with their results.
Gynecomastia Treatment Cost Type Wise
Gynecomastia treatment primarily falls into two categories, including:
Liposuction:The liposuction method is painless, efficient, and suitable for breasts of modest size. Both local and general anesthesia is acceptable for doing it. Through an areolar incision, the cannula is introduced into the afflicted region. The doctors employ the safest procedure based on the patient's unique needs since there are many forms of liposuction as well. Depending on how much fat has to be eliminated, the price of a liposuction operation in India may vary from INR 60,000 to INR 4,00,000.
Excision Surgery: This is another surgery often used to treat gynecomastia. A tiny incision is created around the areola, much as in liposuction, and the breast tissues are delicately removed via that incision. It might be around Rs. 50,000 – Rs. 1,50,000.
For a procedure that is less invasive and has a lower risk of discomfort, some surgeons choose to combine the two procedures. Combining the two procedures makes the procedure less complicated and makes the excision of breast tissue simple. The cannula retrieves the glandular tissues after the fat tissues surrounding the chest are initially removed. The incision is then stitch-free and closed.
Cost of Gynecomastia Treatment in Major Cities of India (Chart)
The price range for gynecomastia surgery in India's major cities is shown below.
| Cities | Minimum Cost | Maximum Cost |
| --- | --- | --- |
| Delhi | INR 50,000 | INR 140000 |
| Chennai | INR 62000 | INR 160000 |
| Mumbai | INR 54000 | INR 120000 |
| Hyderabad | INR 66000 | INR 115000 |
| Bangalore | INR 65000 | INR 145000 |
| Gurgaon | INR 57000 | INR 136000 |
| Kolkata | INR 59000 | INR 132000 |
| Pune | INR 61000 | INR 138000 |
Need help? Talk to Our Plastic Surgeon
Get the Most Effective Treatment and Surgery in India by Consulting Dr. Neeraj Bhaban, One of the Top Plastic Surgeons in Sangli and Kolhapur.
Call Us :

+91-9637222022
Gynecomastia Treatment Cost in Nirmiti Cosmetic Centre
The cost of a gynecomastia operation varies depending on the surgeon and the procedur e used. Liposuction is often used in gynecomastia surgery because it produces outstan ding outcomes with less scarring.
Facilities Provided by Nirmiti Cosmetic Centre Sangali
Under the direction of skilled and knowledgeable cosmetic doctors, the Nirmiti Plastic Cosmetic & Laser Surgery Center in Sangli, Maharashtra, offers complete cosmetic treatment. The physicians work to provide you with a personalized, compassionate, secure, and happy experience while also participating in cutting-edge research. They are able to provide you with an adequate treatment possible thanks to the top cosmetic surgeon and the most cutting-edge laser technology. Schedule a consultation now for a healthy future!
The Bottom Line
Hormonal imbalance is a frequent cause of gynecomastia in males. According to clinical data, one in four males has the disorder known as gynecomastia. This illness develops in response to the psychological effects on males. As a result, the impact is felt on a personal and professional level. Gynecomastia is often not curable by medicine or at-home therapies; therefore, your plastic surgeon may recommend an advanced surgery to treat the issue.
Does Insurance Cover Gynecomastia Surgery Cost
Gynecomastia is often excluded from insurance coverage. Male Breast Reduction Surgery is not often covered by health insurance coverage; however, many cosmetic surgeons provide financing options to their customers, so be sure to inquire.
How to Get Gynecomastia Surgery Covered by Insurance?
Suppose your gynecomastia began during puberty or adolescence and has continued for two years. In that case, you may be eligible for insurance coverage for gynecomastia surgery if you meet the requirements listed below:
It reached grade II, III, or IV gynecomastia.
Breast enlargement is painful, even with pain relievers.
You have stopped using the medications for at least a year, which caused the hormonal imbalance that resulted in gynecomastia.
Despite attempts to treat the underlying reason, gynecomastia continues.
The reason for breast augmentation other than hormonal factors has been ruled out.
Male breasts have been photographed from the front and side.

In addition to the situations described above, insurance will pay for the procedure if the male patient has Klinefelter Syndrome or is at risk of developing breast cancer.

Book An Appointment