Is PRP Effective for Hair Loss?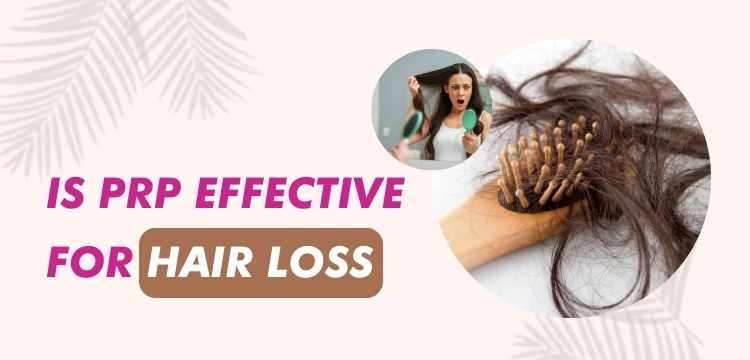 Overview
Especially in terms of social engagement and self-confidence, turning bald can be terrible. In fact, according to one study, depression symptoms are present in 29% of women who are experiencing hair loss. According to another, males who lose their hair can have a "enormous emotional stress."
However, an unique, all-natural treatment might give many people hope for hair regrowth without drugs, surgery, or cosmetic creams. A revolutionary method called platelet-rich plasma (PRP) injection may be able to stop hair loss and promote the growth of new hair by using your personal blood platelets, a kind of cell that aids in healing all through the body.
Platelets and Hair Growth: What's the Connection?
Hair loss can occur at any moment during adulthood, despite the fact that it is frequently linked to ageing and heredity. Balding happens when the tiny sacs that hold hair strands to the scalp, known as hair follicles, start to shrink. This causes the hair fall out.
One of the four essential elements of blood are platelets. Platelets encourage the growth and regeneration of cells. Platelets are typically roughly 5 times more dense in PRP than those in regular blood, as the name "platelet-rich plasma" indicates. This platelet density is advantageous because platelets generate growth factors that are known to aid in tissue regeneration and wound repair.
PRP has been used by doctors in the field of sports medicine to aid in the recovery of joint and muscle injuries. According to study, people with hair loss may benefit from an increase in blood flow to the hair cells and thicker hair shafts by injecting platelets from their plasma and triggering growth factors.
How Does PRP Effective for Hair Loss?
PRP is a procedure that promotes hair growth. When hair loss results from traction alopecia or androgenetic alopecia (commonly known as male patterned baldness in men), it is particularly effective . PRP is a recently developed treatment for hairloss.
Disruption to the hairline follicles frequently results in hairloss. PRPs are full of proteins and a variety of growth elements that speed up the body's cell healing process. Fortunately, PRP has the power to stop the process, allowing the patient's follicles to recover and generate new hair.
PRP is ideally a fantastic alternative for anyone who is experiencing mild or moderate hair loss. Keep in mind that if you catch hair loss early, you would have the best chance of getting your hair back since the follicles have only just gone into hibernation and can still be stimulated.
Need help? Talk to Our Plastic Surgeon
Get the Most Effective Treatment and Surgery in India by Consulting Dr. Neeraj Bhaban, One of the Top Plastic Surgeons in Sangli and Kolhapur.
Call Us :

+91-9637222022
How Long Does PRP Last for Hair Loss?
Male pattern baldness can be effectively treated with PRP injections, which both stop hair loss and encourage the creation of new hair. PRP can help stimulate the growth of new hair after hair transplants.
Since PRP therapy makes use of a serum made from the blood, the outcomes you experience will mostly depend on your body's capacity for mending. The effects could endure for a longer period of time if the scalp and follicle react well to the treatment. Therefore, the answer to your query about how long PRP works for hair loss is related to your blood.
A healing period follows every surgery. While it really won't stop you from carrying out the majority of daily activities, the adverse effects and scalp issues normally go away after 4 weeks. In three to six months, it ought to be entirely gone.
How to Achieve Positive Results from PRP for Hair Loss?
PRP's hair regrowth method depends on the person's blood platelets, along with white and red blood cells, to accelerate recovery. The patient provides blood, which is then processed in a machine to produce PRP. In order to remove the platelets off the blood, the machine rapidly rotates.
After that, the platelets are prepared for injection into balding areas. PRP has recently been a well-liked therapy choice for several people dealing with hair loss because to its success at reviving hair growth.
To make the treatment more effective follow few tips.
For at least two days previous to the treatment, refrain from using any serums or oils.
One week before your PRP, avoid colouring your hair.
A week before and after the procedure, avoid wearing hair extensions.
Drink 1L or more of water each day.
Get enough rest, at least 6 to 8 hours.
Exercise should be avoided at least 12 hours before your PRP treatment.
Conclusion
PRP isn't considered a "cure" because a single treatment won't eliminate the issue. Instead, in order to continue promoting hair growth, the patient may require multiple PRP treatments over time. With an aesthetic technician, you should talk over how frequently you should get PRP treatments. The frequency of maintenance shots is normally every 3 to 6 months, though this depends on how well your first initial therapy went.
Is PRP Hair Treatment a Permanent Solution?
No, but it's quite effective. You are experiencing androgenetic alopecia, which is a result of hormonal changes. Even hair regeneration is entirely stoppable and is feasible without any negative side effects with some drugs. Treatment is based on the severity of hair loss. In order to diagnose which grade you are in need an appropriate treatment, and it is necessary.
Is PRP effective in treating genetic hair loss?
It has been shown through numerous successful research that PRP is an effective therapeutic option for androgenetic alopecia. According to the study, equally men and women benefit from the procedure, especially those who have genetic hair loss near the top or forehead. PRP therapy has been successful in treating androgenetic alopecia, often referred as male pattern baldness, and is the most prominent kind of hair loss.

Book An Appointment