Rhinoplasty in India: Affordable options without compromising quality
Nose Plastic Surgery Cost In India
Rhinoplasty, often referred to as a 'nose job surgery' or 'Nose plastic surgery', is an aesthetic surgery designed to transform or improve your nose's look. While this procedure is sought after by individuals for various reasons, finding an affordable option without compromising quality can be a challenge. In recent years, India has emerged as a hub for medical tourism, offering world-class medical facilities and skilled surgeons at a fraction of the cost compared to many Western countries. In this blog, we'll explore the affordable options for nose plastic surgery costs in India while emphasizing the importance of maintaining surgical quality.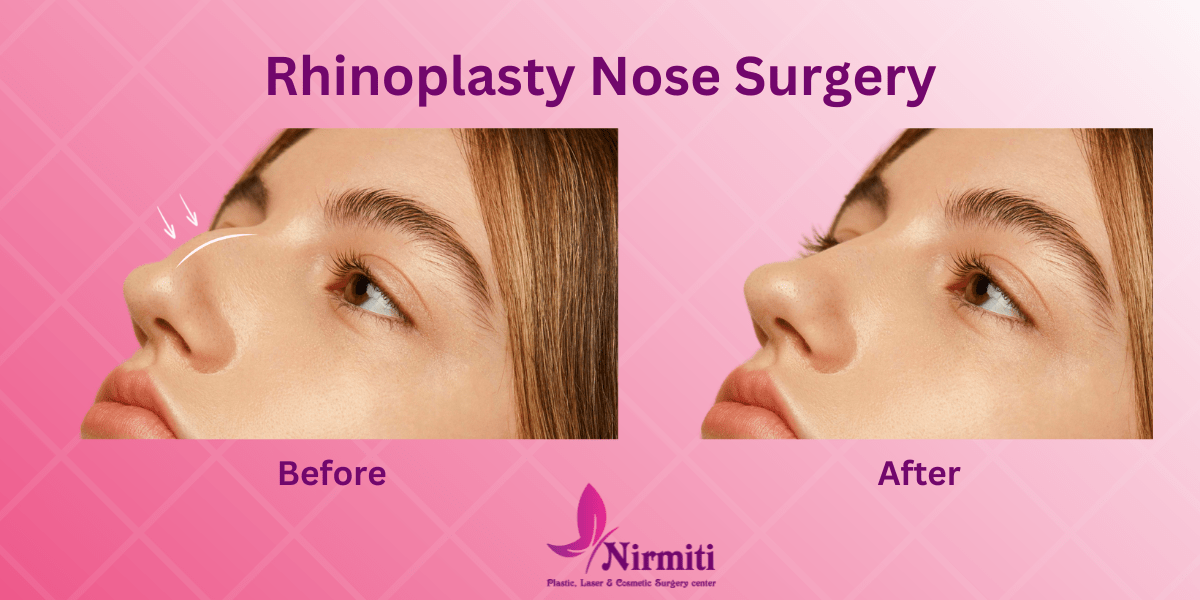 Choosing Rhinoplasty (Nose plastic surgery)
Did you know nose plastic surgery is a fantastic cosmetic procedure that could possibly be a great fit for you? Here's who it's perfect for:
 

People who feel unhappy with a nose that's a little uneven or asymmetrical.

 Individuals with a broad nasal structure who want a slight change.

Those wishing for a change in the petite size of their nose.

Anyone wanting to reduce the more prominent size of their nose.

Folks looking to smooth out a nasal bridge bump.

Those wishing to lift a downturned nasal tip.

 And lastly,  people who have broad nostrils and want some subtle  modifications.
So think about it, could nose plastic surgery be what you're looking for?
Get The Best Nose Job (Rhinoplasty)
Superb Skills: Our surgeons not only possess an impressive understanding of facial balance and nose structure, but they also ensure that your newly shaped nose fits flawlessly with your overall look.

Surgical Artistry:  Rhinoplasty is a blend of science and art, and at the clinic, we excel at both. Each surgery is a masterpiece, carefully sculpted to bring out your natural beauty.

Pocket-Friendly Perfection:

Nirmiti clinic

takes pride in offering top-notch rhinoplasty services at an affordable price point.

Personalized Path: We believe that every nose is unique, and so is every patient. Through attentive consultations, we tailor a treatment plan that aligns with your goals, ensuring a personalized experience.

Customized Care: We acknowledge that every nose and every patient is different. By paying careful attention during our consultations, we're able to design treatment plans that resonate with your personal objectives, providing you with a truly customized experience.

Comprehensive Care: From your initial consultation to your post-operative recovery, we provide comprehensive care and guidance, prioritizing your comfort and well-being.
The total cost of a nose job, or Rhinoplasty
Where the procedure is happening: The cost can vary based on where the facility is located.

Patient's age.

The type of hospital or clinic: Depending on whether it's a government or private health institution, there could be a price difference.

The surgeon's skills and reputation: A more experienced and well-regarded surgeon may charge more.

The specific technique used in the rhinoplasty: There's not just one way to do a

nose job surgery

! Some methods may rack up more costs than others.

Any tests needed before surgery: Some pre-surgery tests may be necessary, adding to the total cost.

How long is your stay in the hospital:  Longer hospital stays are going to cost more.

Medications you might need: If prescriptions are required after surgery, this will add to the bill.

Dealing with any complications after surgery: Any aftercare or management of post-surgery issues might add extra costs too.

 Additional laboratory or diagnostic tests like X-rays, ECGs, etc.
These are pretty much all the potential factors that could affect the cost of rhinoplasty in Kolhapur, India. Hope this rundown simplifies things for you!
Understanding the Process of Rhinoplasty Surgery
Before scheduling an appointment, it's crucial to consult your surgeon to ascertain the potential success of rhinoplasty for your case. Typically, the following steps are covered during this pre-surgery meeting:
Medical History Review

: Your medical background will be evaluated to ensure you're a suitable candidate for the procedure.

Medical Examination

: A thorough medical examination will be conducted to assess your overall health and any potential risks.

Photographic Documentation

: Photographs of your nose will be taken from different angles

Discussion of Expectations

: You'll have the opportunity to express your expectations and desired outcomes from the surgery. Your surgeon will discuss what can realistically be achieved.

Additional Procedures Assessment

: If it's needed, your surgeon might bring up the idea of adding some more procedures to the rhinoplasty. Like, some people go for a chin augmentation as both procedures can enhance each other's results.
During this consultation, detailed photographs of your nose will be captured from multiple perspectives. These images serve as a basis for analyzing the surgical changes both before and after the procedure, enabling an evaluation of the long-term effects of the surgery.
Patients who undergo rhinoplasty can typically leave the hospital within a week. Nevertheless, a full recovery from the procedure usually takes around 2-3 weeks. It's important to note that even after the surgical process is concluded, strict adherence to all post-operative instructions given by the physician is essential.
Discover the Transformation
Experience expert rhinoplasty nose surgery with Dr. Neeraj Bhaban and team at Nirmiti Clinic, Kolhapur. Transform your nose and enhance your confidence with precision and care.

Book An Appointment