Side effects of rhinoplasty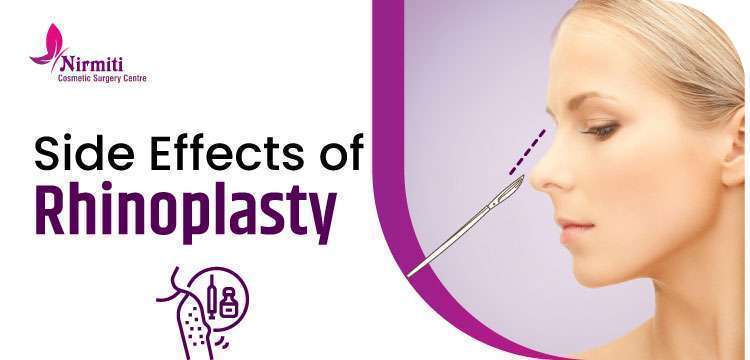 Overview
The risks associated with cosmetic surgery are comparable to those of any other surgical procedure and include those specific to the procedure itself. These concerns are relevant to revision and ethnic rhinoplasty and must be thoroughly addressed with your physician before surgery.
Side effects
The following are some possible side effects of rhinoplasty surgery:
Bleeding: Post-operative bleeding is a common concern after any surgical operation. In the case of rhinoplasty, this may occur either at the incisions' site or inside the nose. If there is significant bleeding, emergent surgery or a blood transfusion may be necessary.

Swelling:The swelling and irritation of the tissues around the nose frequently cause this to occur after surgery. After three to five days, most people see the swelling at its worst, and then it goes down slowly over the following two to four weeks.

Pain: The recovery after surgery always involves some degree of discomfort. Depending on the individual, rhinoplasty discomfort may range from mild to severe and continue anywhere from a few days to a few weeks. A doctor-prescribed pain reliever might be essential for relief.

Nosebleeds: A nosebleed is known as epistaxis in medical language. Patients often develop epistaxis after rhinoplasty; however, this is typically not a reason for alarm. However, medication may be necessary if the epistaxis is severe or does not go away promptly.

Infection: Infection is always a concern whenever surgery is necessary. During rhinoplasty, this may happen either inside the nose or at the surgical incision sites. Infections are painful and may result in redness and swelling that call for medical attention.

Bruising: This condition develops due to the damage that the operation causes to the blood vessels in the region. In most cases, the worst bruising will occur after three to five days, and then it will progressively go away over the next two to four weeks.

Scarring:The scars after rhinoplasty are generally small and unseen since they are located within or at the tip of the nose. This may be more pronounced in certain circumstances.
Any side effects in the long run
Congestion after rhinoplasty surgery is a common and anticipated complication that may continue for weeks. When suffering from nasal congestion, you could feel like you must always blow your nose. Blowing your nose with force after rhinoplasty might cause bleeding, damage the sensitive nasal tissues, and ruin your results.
Need help? Talk to Our Plastic Surgeon
Get the Most Effective Treatment and Surgery in India by Consulting Dr. Neeraj Bhaban, One of the Top Plastic Surgeons in Sangli and Kolhapur.
Call Us :

+91-9637222022
Anti-aging effect of nose job
The outcomes of rhinoplasty are highly stable over the long term. After the first period of recovery (typically within a year), after any leftover edema has decreased, your results should be stable and stay the same for many years.
Of course, no operation can halt the aging process completely, and as you grow older, your nose may undergo some natural modifications.
Nose sagging and/or broadening may occur when the cartilage and underlying soft tissues deteriorate with aging. Some individuals may see a more dramatic or rapid progression of these changes than others, but this shouldn't be related to whether or not they've undergone rhinoplasty.
Is rhinoplasty safe?
Like any surgical treatment, rhinoplasty has some risks and side effects. The risks associated with rhinoplasty are minimal, and complications are unusual. The risks and advantages of the surgery will be discussed at length with your surgeon before any procedures are performed.
Will the nose get weaker after surgery?
The nasal structure is not compromised in any way by the rhinoplasty procedure itself. Even after repairing a fractured nose using osteotomies, the nose may be more prone to further fractures.
Conclusion
It might take many months for rhinoplasty surgery to produce its total potential outcomes. However, after the surgery is complete, you will find a visible change in the profile of your nose almost immediately.

Book An Appointment