Beard Transplant: Everything you need to know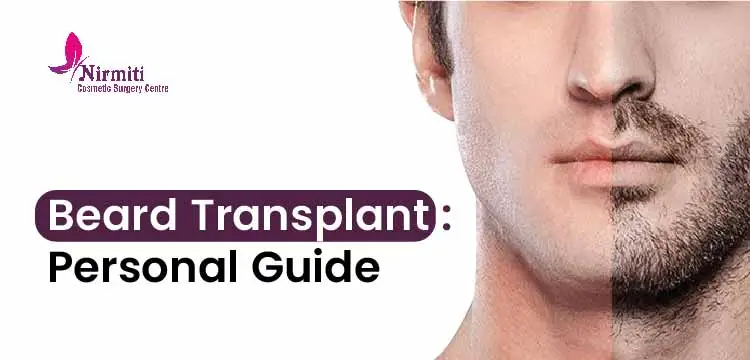 What is a beard transplant?

Beard transplants include the surgical relocation of the donor's hair from other body regions to the transplant site in the beard. Beard implant hair often originates from the patient's scalp, either from behind the ears or, if sufficient growth exists, from beneath the chin. Though it's simpler to harvest, the hair on the back of the head has a somewhat different structure, making it more challenging to match.
Is this a procedure where the surgeon removes hairs and then places them back into the face and neck? Not exactly. Instead, in a "follicular unit micrograft," the whole hair follicle is removed by the surgeon. These micrografts have a small amount of subcutaneous fat at the base, the entire framework of one to five hair follicles (including the sebaceous glands). The surgeon will extract a micrograft from another place of your body and delicately implant it into the areas of your face and neck that lack hair.
This procedure requires the skill of a seasoned hair transplant surgeon and can only be completed with great care. The beard transplants must also be placed at a precise angle to ensure that the growing hair is aligned correctly and appears natural, and the micrograft must be securely connected to the face.
Procedures used for beard transplant

Getting a beard hair transplant involves moving hair from one area of your body to the jawline and other areas where you want to sprout facial hair. Despite how straightforward it seems, there is quite a procedure involved. Surgeons often choose one of two primary methods:
Follicular unit extraction (FUE): This method is employed to a greater extent. Complete follicular units are removed from the donor location one at a time. This method requires a little discomfort.
Follicular unit transplantation (FUT): The surgeon will remove a thin piece of tissue from the back of your skull. Finally, the hair follicles are extracted from the affected area.
Harvesting: Your surgeon will shave the back of your head regardless of whether you choose FUE or FUT for the hair transplant procedure. The hair follicles in the harvest regions will need further inspection. A local anesthetic will be administered, so you don't feel anything throughout the treatment.
Implantation: After your doctor has removed the follicles from your scalp, they will inject a local anesthetic into your face where the implants will go. The implantation procedure then starts after this. Each follicle will be implanted under the skin of your face. Your new beard will be shaped following the pre-op plan you and your surgeon developed.
Recovery: Healing after surgery requires at least 24 hours. Whenever you have hair follicles implanted, you will notice that little crusts grow around them. They will fall out on their own in a few days, so there's no need to worry. You may return to your regular beard maintenance routine after 7-10 days. New beard hairs often start to come out between weeks two and four. It's nothing to worry about since new hair will come in on its own in due time.
Need help? Talk to Our Plastic Surgeon
Get the Most Effective Treatment and Surgery in India by Consulting Dr. Neeraj Bhaban, One of the Top Plastic Surgeons in Sangli and Kolhapur.
Call Us :

+91-9637222022
Who can do a beard transplant?

Beard transplant recipients need to fit specific criteria. Beard hair will be taken from the back of your head. Thus those follicles must be in good condition. The back of your head is also protected against thinning hair. Even if you have significant hair loss at the crown of your head, new hair will continue to develop towards the back.
Before beginning the transplant process, your surgeon will thoroughly examine your scalp to see whether there are enough follicular units to perform the procedure. If you do not meet the requirements despite your best efforts, it is sorry to inform you that you will not be allowed to proceed with this process. Nonetheless, your medical professional will provide you with options.
It is generally agreed that beard transplant operations are safe, except for the aesthetic risks involved. The likelihood of experiencing major health complications is exceedingly remote, and the procedure causes little discomfort and somewhat expedited recovery time.
Also read – Is hair transplant permanent?
If you haven't been successful at growing a beard on your own but would want to, a beard transplant procedure is a terrific option. Although the results may last a lifetime, the operation is both intrusive and costly. You may attempt other methods, including topical treatments, vitamins, and lifestyle modifications, to stimulate hair growth without using implants.
Consult your medical professional before making any rash choices. There are potential advantages and drawbacks to this surgery, as well as potential results and other treatment options, all of which you should thoroughly investigate before deciding to go through with it.

Book An Appointment