Is Hair Transplant Permanent?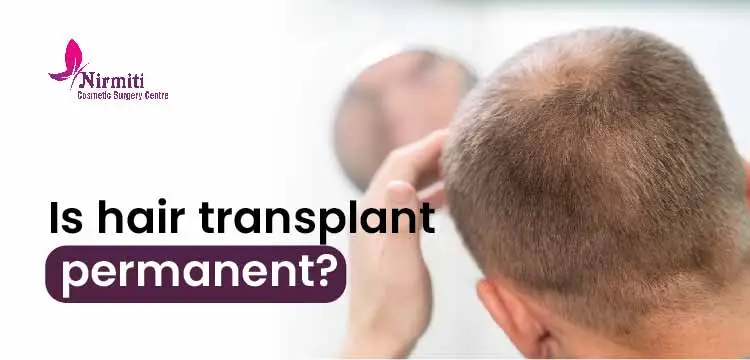 Hair transplants are a kind of elective surgery used to restore fullness to bald or thinning patches of the scalp. Hair is usually harvested from a different area of the scalp (donor site). It's because androgens (male hormones that contribute to hair loss) don't influence this area of the scalp. Hence hair never falls out there. Alternative sources of hair, such as those found in other regions of the body, may also be utilized.
The outcomes of a hair transplant are permanent and may be shown to endure a very long time. In addition to taking a significant amount of time, the operation necessitates a period of rest and recovery after its completion. For these reasons, the usual candidates for a hair transplant are those who have previously suffered considerable loss of hair on their scalp.
Is Hair Transplant Permanent?

After hair follicles are transplanted into areas of losing hair, the skin needs time to heal. It is common for some hair loss to occur during the first three months following therapy.
The recovery process might take anywhere from six to twelve months. However, after the healing process is complete, the transplanted follicles begin to produce hair, concealing the bald areas. Growth of this hair type often continues into old age.
Perhaps the most significant advantage of a hair transplant is that it is a therapy that lasts a lifetime. Several variables affect how well a hair transplant will last. Remember that the "newly transplanted" hair will start thinning around six weeks after surgery. This is normal and will pass in around five to six weeks as new hair begins to grow from the graft.
Hair that has been transplanted may gradually thin down just as normal hair does. Following the transplant operation, you will need a surgical "touch-up" to get results that are seen as more natural. These procedures will be carried out many weeks after the initial wounds have healed. Getting a full head of hair may require many attempts for some individuals.
Will Transplanted Hair Fall Again?

Half an inch of hair growth every month is average. The results you saw in the first three or four months will be much better a year from now. After three to six weeks, you may notice that your hairline has thinned down. Nothing unusual here. Hair usually grows back within a few months, and that's what's going to happen here. Inactive hair follicles may be stimulated with medications like Propecia (finasteride) and Rogaine (minoxidil).
Sometimes the grafts fail. Individuals who fit this description could need further surgery. Several surgical procedures may be required until the desired amount of hair grows back. Separating sessions by at least a few months is the norm in the field. If necessary, further treatment may be performed to fill the frontal hairline and improve the overall appearance.
Need help? Talk to Our Plastic Surgeon
Get the Most Effective Treatment and Surgery in India by Consulting Dr. Neeraj Bhaban, One of the Top Plastic Surgeons in Sangli and Kolhapur.
Call Us :

+91-9637222022
Can The Patient do a Hair Transplant Twice?

If you start to lose hair in the back, your hair transplant may start to seem unnatural. You may consider a second or third transplant without medicines to prevent additional hair loss.
An FUE hair transplant may last a lifetime, but you should know that it will seem unnatural if you continue bald behind the transplant. This is why you should consider the beginning and maintaining a course of hair loss prevention medication.
If you want a hair transplant but don't want to use any medication, you may want to hold off until your hair loss stabilizes around age 30. This is significant since it allows you to anticipate your needs regarding a hair transplant and prepare accordingly. It saves you the trouble and expense of getting yet another hair transplant.
Although hair transplants may be permanent for many patients, some people nevertheless experience gradual thinning over time. Because of this, you may need a second or third hair transplant to touch up certain bald spots before you're happy with the outcome.
However, there is a limit to how often this may be done when the donor area starts to seem thin. Therefore, instead of depending on repeated hair transplant surgery, patients should think about avoiding additional hair loss.
The Success Rate of Surgery
Most hair transplants are successful, with a success rate of 95% to 98%. Because the hair follicles that are transplanted originate from the patient's scalp, there is no risk of the graft being rejected, which accounts for the very high survival percentage of the grafts implanted.
Also read – When will your hair grow after a hair transplant?
Visible hair loss may be treated with a hair transplant. The results of a hair transplant are considered permanent since there is no known method to reverse the consequences of the procedure.
However, this is not to say that the way your hair transplant looks once it heals will be how it looks forever. Finding a professional who can construct a hair transplant that looks natural and lasts a long time is crucial.

Book An Appointment