Hair Transplant Better Option For Alopecia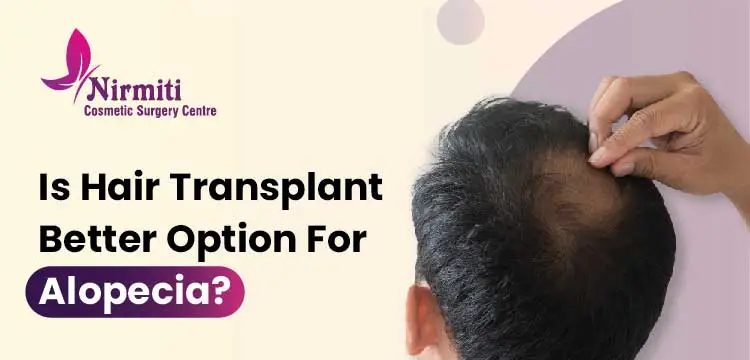 There are many different options available for people dealing with hair loss.
Some people may choose to wear a wig or hairpiece, while others may decide to get a hair transplant.
But, is a hair transplant really the best option for those suffering from alopecia?
Before knowing that, first we must know
Alopecia is a general medical term for hair loss. It is a condition that can cause hair loss on the scalp, face, and body. It can affect people of all ages, but it is most common in adults.
There are many different types of alopecia, each with its own causes and symptoms.
The most common type of alopecia is androgenetic alopecia, also known as male or female pattern baldness. This type of alopecia is thought to be caused by a combination of genetic and hormonal factors.
Other common types of alopecia include alopecia areata, which is characterized by patchy hair loss, and telogen effluvium, which is a temporary condition that can be caused by stress or certain medications.
While there is no cure for alopecia, there are treatments that can help to slow down hair loss or promote new hair growth. If you are concerned about your hair loss, it is important to consult with a doctor or dermatologist to determine the cause and find the best treatment options.
Need help? Talk to Our Plastic Surgeon
Get the Most Effective Treatment and Surgery in India by Consulting Dr. Neeraj Bhaban, One of the Top Plastic Surgeons in Sangli and Kolhapur.
Call Us :

+91-9637222022
And most importantly,
The best way to deal with alopecia is, to accept it and learn to love yourself for who you are.
So, ultimately the real question is
Is Hair Transplant a Better Option for Alopecia?

The answer to this question is not a simple one.
For some people, a hair transplant can be an effective treatment for alopecia. However, it is important to keep in mind that a hair transplant is a surgery, and like all surgeries, it carries certain risks and side effects.
Also read – FUE Vs. FUT: What Type Of Hair Transplant Is Best For You?
Additionally, a hair transplant is a very expensive procedure, and it is not covered by most insurance plans. Additionally, Transplanted hairs are not as sensitive to the effects of hormones or other factors that can cause hair loss. As a result, it can be a long-term solution for people with alopecia.
But, It is also important to note that a hair transplant will not cure alopecia, and it is possible that the hair may eventually fall out again.
So, while a hair transplant may be an option for some people with alopecia, it is not necessarily the best option for everyone.
Ultimately, the best treatment option for alopecia depends on the individual's specific situation. Medications, surgery, or even a combination of treatments may be necessary to achieve desired results
So, If you are considering a hair transplant for alopecia, be sure to consult with a doctor or dermatologist to determine if it is right for you.

Book An Appointment