Hair Transplant Procedure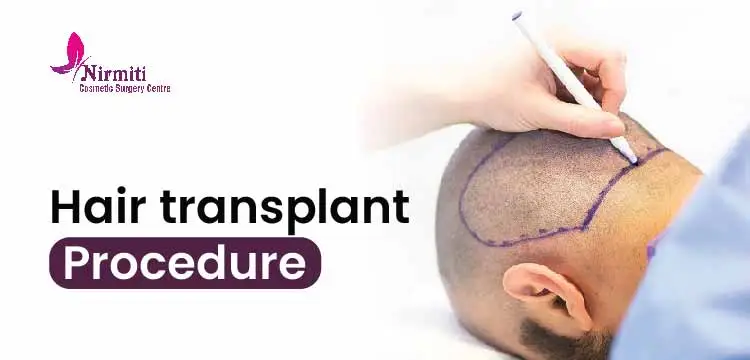 A hair transplant is a surgical procedure that involves moving existing hair to parts of the scalp that are balding or experiencing thinning. This method, which may also be referred to as hair restoration or hair replacement, is often reserved for those who have previously attempted one or more other therapies for hair loss. Hair transplants may be performed by dermatologists, medical professionals specializing in the skin, or plastic surgeons specializing in reconstructive operations.
The doctor or other medical professional will remove grafts, often known as little pieces of skin, from the parts of the body that still have healthy hair. This region is referred to as the donor site by medical professionals. In most cases, it will be on top of your head, near the rear of your scalp, often where you have the thickest hair. The medical professional then transfers the grafts to the bald areas of the patient's scalp. After the recipient site has healed, the newly transplanted skin must keep growing hair.
Follicular Unit Excision, or FUE for short, is a procedure that is becoming an increasingly acceptable alternative to FUT. To do this surgery, the patients will need to shave their heads to give the surgeons and technicians a clearer view of the follicular units at the back of the head.
The most important distinction between FUE and other strip surgery is that the former is a procedure for extracting donor hair, while the latter is a sort of strip surgery. Instead of cutting a horizontal strip of hair from the donor region, the surgeon will use a hole-punching instrument that has been particularly developed for the procedure to remove individual clusters of hair, also known as follicular units, from the back of the head.
As the most common kind of hair transplant, Follicular Unit Transplant (commonly called FUT or strip surgery) is the one you'll likely go for your treatment. No preoperative scalp shaving is required in this treatment.
The surgeon will create a thin, horizontal cut along the back of the head using a scalpel to extract a strip of hair-bearing skin that has a significant number of strong and healthy follicle units.
The length of the strips will be based on the number of grafts required to cover the predetermined areas on the recipient region, and the surgeon will make every effort to remove just the minimum amount of skin required to achieve their goal.
The donor region, where the strip of skin is taken, may feel like it is being pulled or pinched as the client watches, but the discomfort is temporary. The incision is immediately closed by the surgeon or a member of the staff.
Need help? Talk to Our Plastic Surgeon
Get the Most Effective Treatment and Surgery in India by Consulting Dr. Neeraj Bhaban, One of the Top Plastic Surgeons in Sangli and Kolhapur.
Call Us :

+91-9637222022
What Will The Patient Feel After Surgery?

After undergoing hair transplant surgery, you may experience discomfort and need medicines such as:
Medications for the relief of pain
Infectious disease prevention antibiotics
Medicines that reduce inflammation and swelling
After having surgery, most individuals are able to go back to work a few days later
After around 2 to 3 weeks, the transplanted hair usually falls off. There will now be room for new hair to sprout. 8-12 months following surgery, most patients notice new hair growth.
Both minoxidil (Rogaine) and finasteride (Propecia) are often prescribed by physicians to stimulate hair growth. These drugs are also helpful for preventing or halting further hair loss.
Also read – When will your hair grow after a hair transplant?
What Precautions To Take After Surgery

Precautions to take after getting a hair transplant.
After a hair transplant, you should wait at least four weeks before dyeing your hair.
You should not wash your hair within the first 48 hours after the surgery. You may safely wash your hair after three days but do it carefully to protect the hair follicles.
Refrain from using hot water to rinse your hair.
Avoid flat sleeping positions during the first week after a hair transplant. If you lay flat, you run the risk of experiencing scalp swelling.
You may maintain your body's water balance by consuming sufficient water. Hydration is crucial to your capacity to heal after the hair restoration treatment.
Don't touch your hair for the first 72 hours following the treatment.
Many treatment methods may be pursued in the event you are having hair loss or thinning hair. However, no one therapy can ensure success, and the expenses may soon add up, particularly given that hair loss therapies are seldom reimbursed by insurance.
However, suppose you have discussed treatments with your physician or discovered that other conventional therapies for hair regeneration have not worked for you. In that case, you may want to investigate the possibility of getting a hair transplant. If your medical team believes you have a strong chance of seeing favorable outcomes from this treatment and you are a suitable candidate for the transplant, then you should consider doing it.

Book An Appointment